Despite all the quotes that teach us differently, we still judge books by their cover... and people browsing through podcast apps, looking for their next favorite show are certainly judging yours by its cover.
Why should you care about your cover art?
Your cover art plays a significant role in the discovery of your podcast. It can disqualify or make you stand out before someone even gets a chance to hear your actual content. Even Apple considers the quality of your artwork when it comes to featuring your show.
That said, it's easy to view your artwork as just another marketing tool - focusing on its effectiveness when it comes to click rates and getting featured. But it's true significance, is much larger than that.
Your cover art is an integral part of your story. It is your story's very first sentence - the first glimpse into this beautiful new world you've created.
That's why you should care about it.
What makes a good podcast artwork?
Most successful designs are not about subjective taste. They are about the message and how clearly and effectively that message is communicated in a given context.
Your cover art is not good only because it "looks nice" but because:
It communicates with your audience (they can relate to it)
It allows your listeners to imagine what they will find behind it.
It speaks about your values
It is legible and understandable with least effort
It properly fits the context (sizes, formats, situations)
It allows you to build a broader visual identity around it.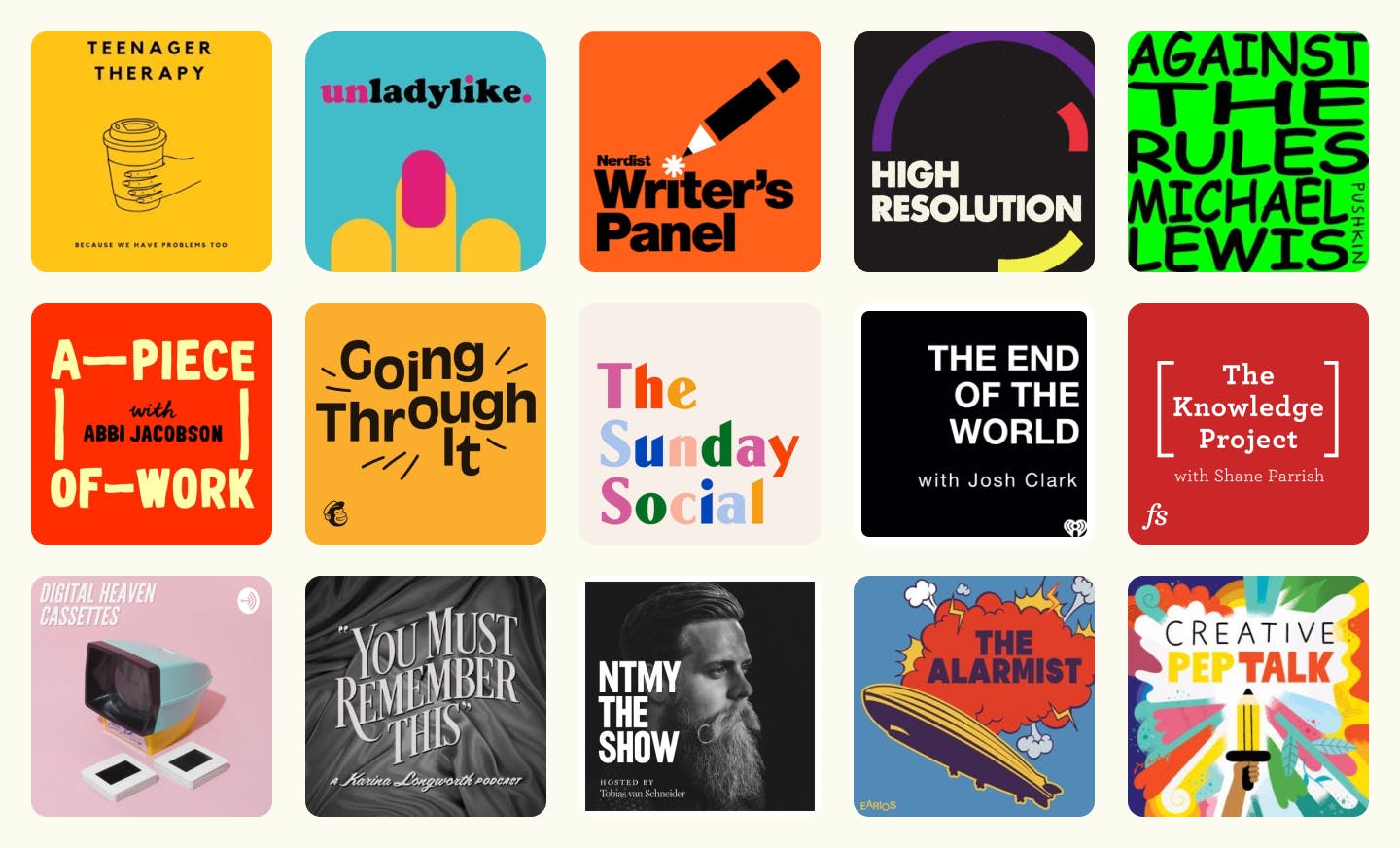 For more examples check out our Pinterest board where we collect well-designed covers organized by category.
Should you design your artwork?
You're probably not a designer and you never wanted to be one. So the very first question you should ask yourself is: "Do I really want to do this on my own?"
If the answer is No (quite understandably),
Then I don't want to waste your time.
Here are a few options for finding designers to help you out.
Fiver - It's hard to recommend this platform. Its model promotes cheap and superficial work. But that doesn't mean you won't be able to find a designer there who fits your needs and budget. If you end up with a stock looking design... don't be surprised.
99 designs - while in a way similar to Fiver, 99 designs operates on a bit healthier model. It lets you find designers to work with directly or start a contest and get a few designers to compete on your project. Compared to Fiver, the probability of getting a good design is higher. But you'll end up paying more.
Dribbble - the main place to be for any kind of (digital) visual designers and creators for the past decade. You can find thousands of amazing designers there (if you look hard enough) and get in touch with them. Keep in mind these guys usually know their value and expect higher prices.
Behance - very similar to dribbble but more serious with even higher quality threshold - browsing through the "Best of Behance" usually gets me drooling... but as you might suspect, "drooling" comes at a price.
Instagram - I don't have to explain much about this one - you already live there. In case it didn't cross your mind, there are some pretty amazing designers on Instagram.
General Tip: You can try searching for people based on location and maybe find some good local designers who would be willing to help you out for a lesser fee to support your cause... worth trying.
If your answer is Yes
Then the rest of this article is for you.
Start from your constraints
The main reason you often feel overwhelmed with a task like this is that your options seem limitless... but they are not.
In any design project, there are always constraints. Embracing constraints allows you to focus and streamline your process.
Let's think about the constraints at hand.
Technical Constraints
To get approved by Apple Podcasts, there are rules you have to follow - these are your hard constraints.
Your artwork needs to be in a square format 1:1
The size of your artwork should ideally be 3000 x 3000px 72dpi (the actual minimum requirement is 1400x1400px).
You need to export your artwork as JPG or PNG file... preferably PNG.
It should be utilizing RGB color space
Context
Your artwork will be shown in a variety of contexts, sizes, devices, and podcast apps.
You want your cover to gracefully scale from the largest format to the tiniest one. This should inform your design decisions. Your design should be legible and recognizable at very small sizes. Meaning you shouldn't go wild with details.


Which one do you think works better in all given sizes?
Copyright
You can not use images, illustrations, logos, or graphics that are protected by copyright.
Also, Apple is very specific about not using images of their products. Otherwise, your podcast might not get approved.
If you need images, illustrations, or graphics, you either need to find royalty-free resources or pay for them... or create them yourself.
Common sense
This is not really a constraint, but I'll do you a favor and make it for you - you can't use images or illustration of a microphone or anything even remotely suggestive of podcasting - your cover art is not about the medium you are using, it should be about the topic of your show... unless you're going meta and your podcast is about podcasts.
Category (topic)
Take a look at your category and figure out the commonly used patterns - eg. if most sports podcasts use a ball on their cover, avoid using a ball for your cover.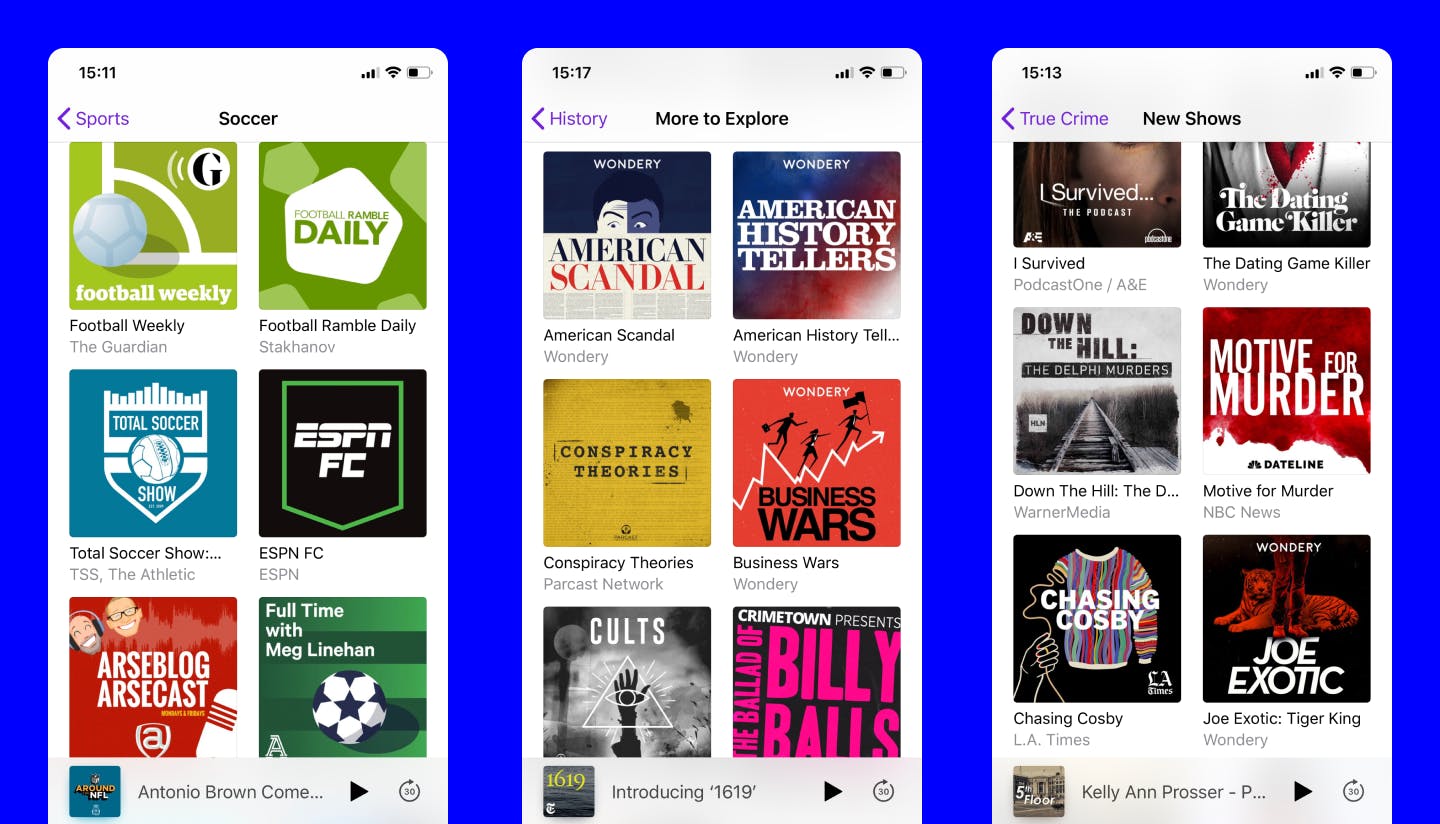 On the other hand, your category will also be a good source of ideas. Look for what others are doing to stand out and save the ones you like the most.
Define the world in which your podcast exists
Everything is a brand today, so is your podcast. And your cover art is just one visual element that should fit into the larger narrative of your brand.
But creating a brand is a challenge way beyond the scope of this article. In fact, it's such a challenge that large podcast shows have either built their own in-house design department or hired the world's best agencies to produce their brand and marketing strategy.
Even they often get it wrong.
You could start from hard questions like "What does my brand stand for" or "What are my core values", but Instead of burdening yourself with a terrifying task such as creating a brand, try thinking about it a bit more practically... at least for now.
Ask yourself how does the world where my podcast lives look like?
Create a Pinterest mood-board and start building a picture of the world where your podcast lives. I know this sounds vague, but it's actually quite simple, it just requires a bit of imagination.
Ask yourself:
If my stories have characters (real or imaginary), what do they look like? What are they wearing? Is there something particular about their style? Now go and find images that represent that.
If there is a sense of physical place to my stories, where do they happen? In a dark room or on an open bright field? Is it a small basketball court? What is the atmosphere of these places? - Find images that convey this atmosphere.
Is this world realistic or fantastic? Maybe illustrations describe it better than photographs?
What objects belong in my stories? A pack of cigarettes, a photo book, a gun... a particular vase of flowers? How do these objects fit the atmosphere of my world?
What colors belong in my world - is it a bright world or a dark, muted one? Is it aggressive or calm, subtle, or in your face? Browse Pinterest for color pallets and find those that fit your world.
What other art captures this "feeling" you're after? Collect other podcast covers, film posters, book covers, album covers, paintings, or branding materials that convey this feeling.
What fonts would make sense in this world? Handwritten and personal, strong and loud, subtle and soft, traditional or edgy? Find examples of these.
Keep collecting images until you feel you are starting to see the connections. Pinterest will keep giving you suggestions based on what you've already added to your board... follow the white rabbit.
Done collecting? Look at it all together.
Clean up until every single thing in that mood-board feels like it belongs in the same world. If you have a few conflicting visions, great! Create a few mood-boards and then compare them to one another.
Here's an example of a fun, vibrant mood-board that's easy to build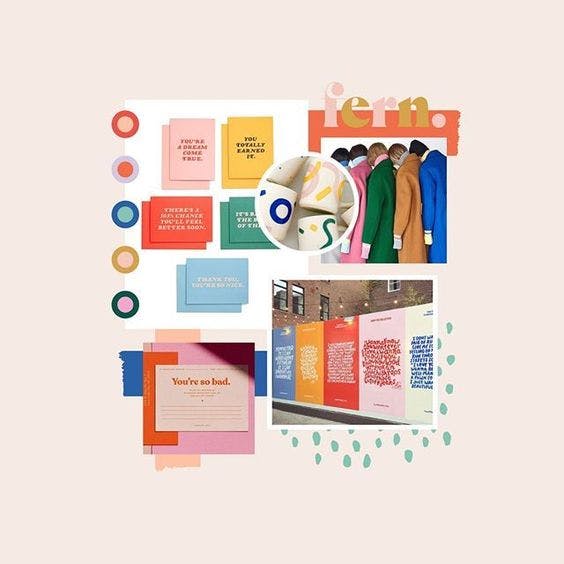 From now on, your mood-board is your north-star.
Btw I'd be very interested to see what you come up with - send your mood-board to info@modus.com
Define the elements you want to use
When choosing what to put on your cover art, you need to be deliberate. Your space is very limited and it has to work on very small sizes. Aim to have as few visual elements as possible.
Think about what elements communicate your message effectively.
Elements you should consider
Show Name - everything else from this list is optional, but your show name should be front and center. Nothing must stand in the way of its legibility.
Tagline - you have a short & sweet tagline that helps your listeners get a better sense of what to expect? By all means, include it! Eg. "Exploring the world of apps" helps listeners understand what to expect, while "Technology without borders," tells you very little.
Host Name - include your name if you are known in your circles or your name attracts people/increases trust. If your name doesn't add value, it's just another visual element cluttering your design.
Host Picture - this makes sense for formats such as talk shows for example. But as a general rule of thumb - include your picture only if you are famous, good looking or a visual embodiment of what people should expect from your show.
Network Name - if you are a part of a network, you might have to include it on your artwork. But even if you don't have to, you should consider including it if it increases trust with your audience.
Logo - you might use your podcast to promote another brand, in which case, you should consider including the logo of that brand.
Photographs - if a photo can convey a message of your podcast and lure people into your world, definitely use one. You want a high-res image (3000x3000px). It should not be too busy and it should look good at small sizes, without interfering with the legibility of your show name. Do not break any copyright laws.
Illustration/graphics - Including quality, original illustration, or graphics to your artwork is the easiest way to make your show stand out. The same rules apply as for using photos.

From Typography alone to simple illustration (with pretty clear meaning), or a mugshot (if you are well known in your circles... and you have a victorian beard)
Fitting it all together
You have your mood-board as your Northstar. You want your cover art to fit into your mood-board seamlessly. You have a list of the elements you want to put on this 3000x3000 square. Now it's about fitting it all together
Choose a font in accordance with your mood-board
Most of the elements you'll be working with are words so this might be the most important choice you make. Limit yourself to one font.
There are quite a few places where you can find free fonts but the quality is often questionable at best. I recommend relying on Google Fonts. Also, check the free sections on Font Shop and Font Squirrel - you might find some good stuff. Do not use paid fonts without having an actual license to use them.
For typography inspiration search "typography" on Pinterest, Behance, or Instagram. If you are generally interested in the world of type, I recommend visiting Typewolf.
Specify your color palette
Build a palette of 3-6 colors in accordance to your mood-board
Try playing around with Coolors.co - it's a fun and simple tool where you can create or explore pre-made palettes. If you feel a bit more "serious" try Adobe Color tool - a semi-pro palette generating tool based on color theory.
Also, you can simply find color palettes that you like on Pinterest and use that for your design - there are really no copyright rules for color palettes... still try not to use the exact Coca-Cola red.
Decided to use photos?
Find a few that communicate your message well and fit the atmosphere of your mood-board.
Finding free photos can be tricky since most of the stock photo sites offer photos that look... well stock. Unsplash, Burst and Pexels are rare places where you can actually find some high-quality royalty-free photos.
If you're skillful with the camera, or you have friends who make nice photos - use those. That'll give you the most original result. Most of the good free photos circling around the web are already used in many places.
Decided to go with Illustration and graphics?
Either go with photography or illustration. Combining those two might be nice, but very tricky to do well.
Finding free illustrations is hard, especially when you need something custom. Still, here are a few sites worth checking out - DrawKit, OUCH, humans.
For simple graphics and icons try Flaticon - it has a vast library of free stuff.
When there's an option, get the SVG file format. That way you will be able to scale images without quality loss.
Think long term.
To promote your podcast, you'll be needing a lot of visual goodies down the line. You don't want to be stuck every time you need to create or find these visuals or even worse be random about it.
Good news - you've already done all the heavy lifting.
You understand how you want your world to look.
You have chosen a font.
You have your color pallet in place.
You understand the type and style of images, graphics or illustrations that fit your world.
This is your design kit now. Whenever you are creating a new visual, use these elements, and keep referencing your mood-board. This way your whole online presence will be consistent and in time it will become recognizable... in time, you might even end up having something resembling a brand.
What tools to use?
To design your cover art, you will need some sort of image manipulation tool. I can recommend a few, focusing only on Free tools that are simple to use.
If you have any other tools to recommend, please ping us at hello@modus.com
Final words of encouragement
You are a podcaster. If you find designing your cover art to be confusing, hard, or even boring, don't despair. Cover art is an important part of your story, but it is still way less important than the actual quality of your show... and that's where you shine.
If you have more questions about designing your cover art don't hesitate to get in touch - hello@modus.fm
Join our Private Creative Slack Community
An active hub for podcast hosts, producers and editors, or basically anyone looking to share knowledge and make connections.
Join Slack Community